Australian Government provides high-tech passports testing to baghdad international airport
The Australian Government—in partnership with the Government of Iraq and the International Organisation of Migration—is proud to deliver a state-of-the-art forensic passport testing facility at Baghdad's International Airport.
This technology is the sixth phase of a larger program of work between Australia's Department of Immigration and Border Protection (DIBP) and Iraq's Ministry of Interior— the Capacity Building in Migration Management Program. The Australian Government has also provided this technology to Basra's International Airport.
Building capacity through hands-on training and close collaboration is critical. In addition to supplying the technology—Australia's DIBP
delivered specific training to officers from the Ministry of Interior and Iraqi National Intelligence Service;
hosted a delegation of senior Iraqi officials to Australia to observe Australia's approach to document examination, facial recognition and passenger profiling; and
led a delegation of Iraqi senior officials to the United Kingdom to undergo advanced forensic training with the manufacturer.
The Australian Government reaffirms its commitment to working with the Iraqi Government to advance Iraq's border security systems and capabilities.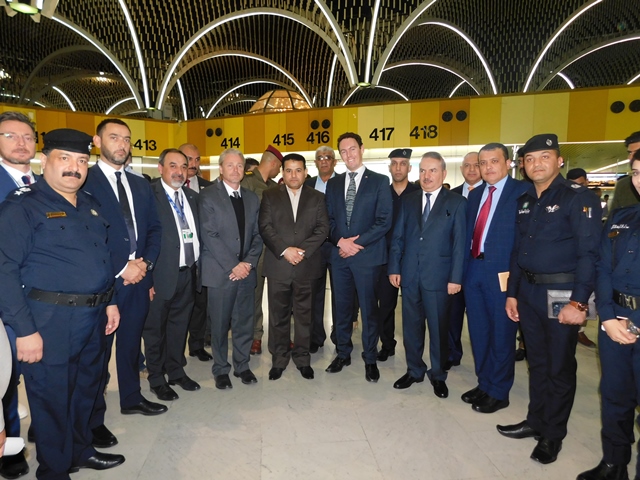 Photo: Minister of Interior Mr. Qasim Al-Araji, Charge d'Affaires Mr. Tim Stapleton (Australian Embassy Baghdad), Mr. Matthew Brown and Mr. Tambey Shabsough (Department of Immigration and Border Protection in Amman) attended the launch of the VSC 8000 machine at the Residency and Passport Centre Baghdad International Airport.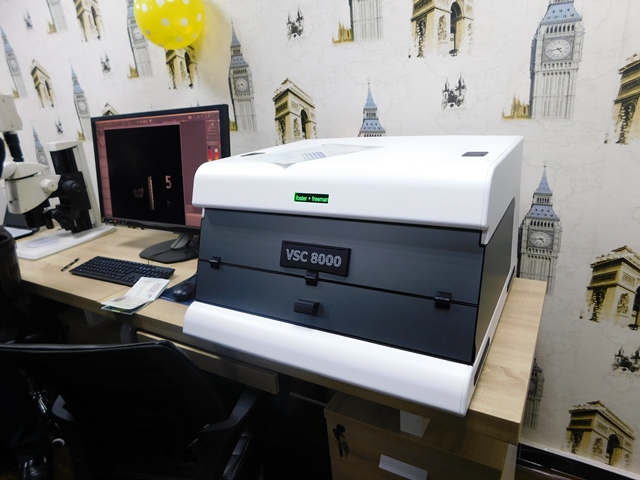 Photo:
VSC 8000 machine at the Residency and Passport Centre Baghdad International Airport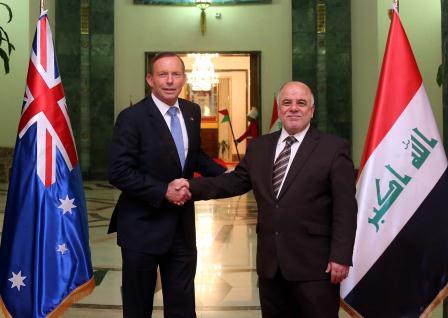 It is an honour to be here in Baghdad with Prime Minister Al-Abadi.
It is an honour to be able to say thank you to the Australian armed forces personnel who have been helping the government and the people of Iraq in the struggle against the Daesh death cult which now holds sway over much of Eastern Syria and significant parts of Northern Iraq.
This is an important struggle.
It's a struggle not just for the people of Iraq, and not just for the people of this region, but for the whole world – because the Daesh death cult, the ISIL death cult, has declared war against the world.
We haven't just seen millions of people displaced, we haven\'t just seen tens of thousands of people killed here in Iraq; we haven\'t just seen the beheadings, the crucifixions, the mass executions and the sexual slavery here in Iraq, we have also seen exhortations from the death cult to people right around the world to engage in acts of terrorism, and even Australia has had its brush with terrorism in recent weeks.
Australia has been active here in Iraq since August of last year: first, with humanitarian food drops in Mt Sinjar and elsewhere; second, with delivering weapons to those who are fighting against the Daesh death cult; more recently, with air strikes as part of an international coalition; and, most recently, with training and assistance for the Iraqi Counter Terrorism Service.
We are determined to deepen our cooperation with the government and the people of Iraq in the weeks and months to come: not because we are a country which goes forward seeking foreign fights, but because where our vital national interests are threatened, where universal values are at stake, Australia should be a strong partner.
Australia should be the best possible international citizen and this is what we believe we are doing here in Iraq.
At the same time as being militarily active, we are also increasing our humanitarian assistance to the government and the people of Iraq, and I can today announce a further $5 million in food aid towards people who have been displaced by the Daesh conflict here in Iraq.
This is my first visit to Baghdad. It is my first visit to Iraq.
Iraq is a country which has suffered a very great deal. First, decades of tyranny under Saddam Hussein. Then, the chaos and confusion that followed the American-led invasion. Most recently, the tumult, the dark age, which has descended upon Northern Iraq as a result of the Daesh death cult, but Australia will do what we can to help.
I want to thank Prime Minister Al-Abadi for the work that he is doing. He has an extraordinarily difficult job.
The people of Iraq are going through an extraordinarily difficult time, but Australia is a friend of the Iraqi people and we will do everything we reasonably can to support the Iraqi government as it does what's necessary to restore its control over its own country and its own citizens.
So, again, Prime Minister, thank you so much for making me welcome and I look forward to a strong and constructive partnership in the weeks and months ahead.

Additional Humanitarian Assistance to Iraq
04 January 2015
Australia will provide a further $5m of life saving assistance to the people in Iraq, who continue to suffer from ISIL\'s terrorist activities.
There are now more than 5.2 million people in need of humanitarian assistance in Iraq. Over 2.2 million of these have been driven from their homes due to ISIL terrorist attacks and are living in temporary shelters.
The $5m will enable the World Food Program in Iraq to provide food for approximately 350,000 people for the next month. This food assistance is critical as Iraq is now in the middle of winter and local communities have lost their harvest due to the ongoing attacks by ISIL.
Australia\'s funding will provide critical support for women and children who continue to be disproportionately impacted by the ongoing violence in Iraq.
This new contribution will bring Australia\'s humanitarian assistance to Iraq to $22 million since June last year.

Celebrating 40 years of Australian aid
10 December 2014
Over 40 years Australia has played a critical role in fostering economic growth, good governance and stability around the world, including in Iraq. Our international efforts have included peace-building and humanitarian support, and have improved health, education, employment and economic opportunities.
Read the Minister for Foreign Affairs' full media release.
Production of prosthetics in Iraq, 2003. Photo Victor Mello, UNDP Iraq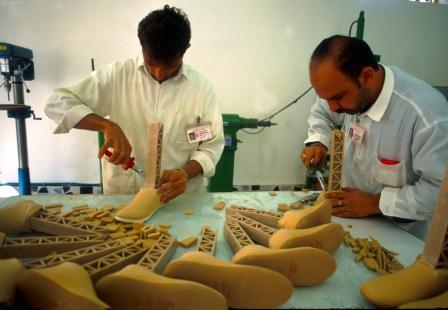 Deminers at work in Iraq, 2011. Photo Victor Mello UNDP Iraq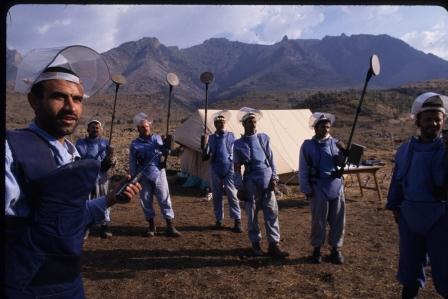 Further humanitarian assistance to Iraq and Syria
22 October 2014
The Australian Minister for Foreign Affairs, the Hon Ms Julie Bishop, has announced that Australia will provide an additional AUD15 million for life-saving assistance to people in Iraq and Syria affected by the ongoing violence perpetrated by terrorists.
An estimated 16 million people inside Iraq and Syria are in need of humanitarian assistance – half of whom have been forced to flee their homes in the face of the onslaught of ISIL or Da'esh. With winter approaching, displaced people in both countries are at risk of exposure to harsh weather, particularly those residing in unfinished buildings, crowded camps or in the open.
Australian funding will provide shelter, food and medical assistance. In Iraq Australia will provide AUD10 million to the United Nations High Commissioner for Refugees, World Food Programme and Plan International Australia. This funding will include support for women and for the protection of children targeted by terrorist organisations. This builds on Australia's support for women and girls in Iraq through the United Nations Population Fund.
In Syria, Australia will provide AUD5 million to the World Food Programme for the delivery of food and to an international non-government organisation for urgent medical assistance.
This funding announcement brings Australia's total assistance for Iraq to AUD17 million since June and for Syria to AUD135.8 million since the conflict began in 2011.
Visit to Iraq of Australian Minister for Foreign Affairs, the Hon Julie Bishop MP
20 October 2014
On 18-19 October the Australian Minister for Foreign Affairs, the Hon Julie Bishop MP, visited Iraq to demonstrate Australia's strong support for the Iraqi people in combating ISIL. This terrorist organisation is a major threat to the security of Iraq, the Middle East region and the international community.
In the Minister's meetings with the Prime Minister Al-Abadi, Foreign Minister Al-Ja'afari, President Masoum, and Council of Representatives Speaker Al-Jabouri, she reiterated Australia's commitment to provide military assistance to the Iraqi Government.
The Minister also finalised legal arrangements for the deployment of Australian Special Forces to advise and assist the Iraqi Security Forces.
The Minister received briefings from Iraqi leaders and international coalition partners on the campaign against ISIL and the current political situation. The Minister emphasised the importance of the Iraqi Government's efforts to deliver policies that share power and resources amongst Iraq's various communities. The Minister also met groups of minority leaders to hear their concerns and to underline Australia's close interest in the protection of minorities in Iraq.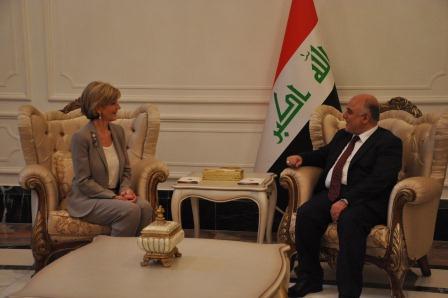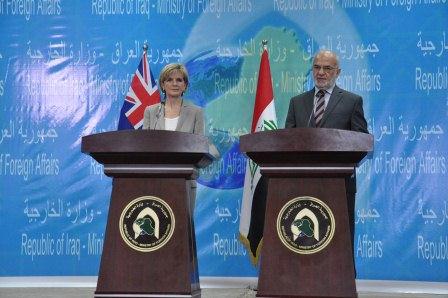 Australia\'s commitment to help Iraq defeat ISIL
3 October 2014
The Hon Tony Abbott MP, Prime Minister of Australia, announced today that the Australian Government will commit up to eight Australian F/A-18F Super Hornet aircraft to participate in airstrikes in Iraq as part of the international coalition formed to disrupt and degrade ISIL.
Once the appropriate legal arrangements are in place with the Iraqi government, Australian Special Forces will also deploy to Iraq to advise and assist Iraqi security forces. These forces will join the RAAF E-7A Wedgetail airborne early warning and control aircraft and KC-30A multi-role tanker transport already supporting coalition air operations over Iraq.
This is not a decision the Government has taken lightly. Ultimately it is Iraq that must defeat ISIL, but it cannot do it alone. This decision reflects the Australian Government's assessment – shared by a growing coalition of Middle Eastern and Western partners – that ISIL represents a significant threat not only to the people of Iraq but to the wider region and to our domestic security.
At the United Nations in New York last week, Iraq's new Prime Minister Haider Al-Abadi welcomed Australia's commitment to support Iraq in defeating ISIL. Australia will be acting as part of a large coalition of countries supporting Iraq in the fight against ISIL and contributing to the humanitarian relief effort.
Importantly, a number of Iraq's Arab neighbours are participating in operations against ISIL alongside the United States and other countries including the United Kingdom and France. More have declared their intention to join air combat operations against the terrorist group.
Australia is reluctant to reach out to conflicts thousands of miles away, but this conflict has reached out to us. At least 60 Australians are now fighting with terrorist groups in the Middle East and at least 100 Australians are supporting them at home.
Prime Minister Abbott said "I have enormous respect for Australian servicemen and women and their safety is the Government's utmost concern. They will complete their mission with professionalism and courage. Our thoughts are with their families, who will have the support of the entire Australian community. The Australian Government will do whatever is possible at home and abroad to keep the Australian people safe."
Australia provides assistance to women and girls in Iraq
20 September 2014
Today the Minister for Foreign Affairs, the Hon Ms Julie Bishop MP, announced that Australia will provide $2 million in assistance to support the hundreds of thousands of women and girls affected by the ongoing violence in Iraq.

"This is part of the Australian Government's efforts to help Iraq protect its people from the terror and brutality of ISIL. Women and girls are bearing the brunt of this conflict as ISIL targets women, children and minorities for sexual violence and expectant mothers are forced to flee their homes.

Australian funding will support the United Nations Population Fund to address the specific needs of displaced women and girls, as well as victims of gender-based violence. It will also scale up delivery of reproductive health care, including obstetric services for around 250,000 pregnant women."

This funding is in addition to $5 million provided for emergency humanitarian assistance to people fleeing violence in northern Iraq, and two air drops of relief items for besieged communities on Mount Sinjar and in Amerli. Australia has also provided around $130 million in humanitarian support in response to the crisis in Syria, including $20 million in funding to Lebanon and Jordan to support refugees fleeing across their borders.
Operation Sovereign Borders
The Australian Government continues to implement Operation Sovereign Borders (OSB) - a tough policy for managing illegal maritime arrivals by boat to Australia. OSB is a military-led border security initiative to stop illegal boat arrivals, preventing people risking their lives at sea in the hands of criminals and preserving the integrity of Australia's immigration program.
If you travel by boat, without a visa, you will not come to Australia and you will be sent to Manus Island or Nauru. There are no exceptions. More information about Operation Sovereign Borders can be found in the attached facts sheets in English and Arabic.
Discussion with new Iraqi Foreign Minister
10 September 2014
Today the Minister for Foreign Affairs, the Hon Ms Julie Bishop MP, spoke with new Iraqi Foreign Minister Dr Ibrahim Al Ja'afari to congratulate him on his appointment and the formation of a new Iraqi Government.

"I outlined recent steps Australia had taken to address the humanitarian impact of the attacks by the Islamic State of Iraq and the Levant (ISIL). In June, Australia provided a $5 million package of support to those fleeing the violence in Iraq. We have also taken part in humanitarian air drops to Mount Sinjar and Amerli, and undertaken several deliveries of military stores to Erbil.
I also indicated Australia's willingness to contribute further to international efforts to support the Iraqi Government in combating ISIL. I urged the Iraqi Government to implement inclusive policies including power and resource sharing with all representatives.

It is vital that the Iraqi Government bring communities together in order to disrupt and degrade the murderous terrorist organisations threatening Iraq. We agreed to work closely together on counter terrorism and other challenges."
Australia welcomes Iraq to AFC Asian Cup 2015
26 March 2014
Australian Head of Mission for Iraq, Ms Lyndall Sachs, wishes Iraq the best of luck in the AFC Asian Cup Australia 2015 following yesterday's draw of the tournaments group stage.
"With the draw for the AFC Asian Cup now finalised, teams will face each other in the group stage of the tournament to be held in Sydney, Australia in January 2015.
I am delighted that Iraq will be coming to Australia to play in the AFC Asian Cup, alongside Australia, in a 23-day festival of football.
The Australian Government is proud to be supporting the AFC Asian Cup which will showcase the sporting talents of Australian, Iraq and 14 competing countries across the Asian region, and inspire future generations of players to get out, get active and participate in one of the fastest growing sports in the world.
Sport diplomacy provides a unique opportunity for broadening, deepening and diversifying our engagement with the nations of Asia.
Coinciding with the Australian Football Cup draw, the Australian Government is launching Match Australia's International Sports Business program.
Match Australia will utilise Australia hosting the Asian Football Cup as a platform to further promote Australian business capabilities and enhance relationships across the region; and we welcome international investors and customers to register their interest in coming to Australia during the tournament.
I look forward to cheering both Iraq and Australia as they go head to head in the AFC Asian Cup 2015 – I wish Iraq the best of luck."
More information about Match Australia's International Sports Business Program can be found at www.austrade.gov.au/matchaustralia

تصريح اعلامي
أستراليا ترحب بالعراق في كأس الأمم الآسيوية 2015
تتمنى رئيسة البعثة الاسترالية في العراق ، السيدة ليندل ساكس ، للعراق الحظ الوفير في كأس آسيا 2015 في أستراليا بعد اجراء عملية القرعة للمجموعات

مع الانتهاء من قرعة كأس آسيا الآن، سوف تواجه الفرق بعضها البعض في دور المجموعات للبطولة التي ستقام في سيدني ، أستراليا في كانون الثاني عام 2015
أنا مسرورة بقدوم العراق إلى أستراليا للعب في كأس آسيا ، إلى جانب أستراليا ، في مهرجان كروي لمدة 23 يوما
ان الحكومة الأسترالية فخورة بأن تكون داعمة لكأس آسيا التي ستعرض المواهب الرياضية من استراليا والعراق و 14 دولة تتنافس من مختلف أنحاء المنطقة الآسيوية ، وإلهام لأجيال المستقبل من اللاعبين للخروج ويكونوا فعالين ويشاركون في واحدة من أسرع الرياضات في العالم
توفر الدبلوماسية الرياضة فرصة فريدة لتوسيع وتعميق و تنويع مشاركتنا مع دول آسيا
بالتزامن مع قرعة كأس استرالية لكرة القدم ، إطلقت الحكومة الأسترالية أستراليا ماتج لبرنامج اعمال الرياضات الدولية
أستراليا ماتج سيستفاد من استضافة أستراليا لكأس آسيا لكرة القدم كقاعدة لتعزيز قدرات قطاع الأعمال الأسترالي و تعزيز العلاقات في جميع أنحاء المنطقة ، ونحن نرحب بالمستثمرين والعملاء الدوليين لتسجيل رغبتهم في المجيء إلى أستراليا خلال البطولة
وإنني أتطلع إلى تشجيع كل من العراق واستراليا لأنهما يتواجهان وجها لوجه في كأس آسيا عام 2015 - وأتمنى للعراق الحظ الوفير
السفارة الأسترالية في بغداد
لمزيد من المعلومات حول استراليا ماتج يمكن ايجادها على الرابط
www.austrade.gov.au/matchaustralia