About Australia
Australia is a stable, democratic and culturally diverse nation with a highly skilled workforce and one of the strongest performing economies in the world. With spectacular landscapes and a rich ancient culture, Australia is a land like no other. It is the earth's sixth-largest country in land area and is the only nation to govern an entire continent.
Did You Know? Australia is the 12th largest economy in the world.
Australia's economy is consistently ranked among the strongest of advanced economies in the Organisation for Economic Co-operation and Development. It is the world's twelfth largest economy and a top performing nation on almost every measure of excellence, from health to wealth, from ease of doing business to educational attainment.
With low unemployment, low inflation and a highly skilled workforce, and with strong links with the fastest-growing region in the world, the Indo-Pacific, Australia's economy is set to prosper well into the future. Australia is a nation of boundless opportunity in a country of endless potential—a nation that is open for business.
Australia's foreign and trade policy promotes its security and long-term prosperity. It seeks to protect and advance its national interests in a rapidly changing environment, while supporting a stable global order. Australia has been integrally involved in global efforts to build peace and security for decades, just as it has in promoting global trade and investment liberalisation. Australia is a good international citizen, helping in times of crisis and supporting economic development in its region.
See DFAT's website for an overview of Australia including information about Australia's trade, foreign relations, economy, environment, government, indigenous peoples, science, culture and more.
Australia In Brief
Australia in Brief provides an authoritative overview of Australia's history, the land, its people and their way of life. It also looks at Australia's economic, scientific and cultural achievements and its foreign, trade and defence policies. With more than 70 images as well as easy-to-read graphs and quick facts, Australia In Brief is DFAT's flagship publication. You can download Australia In Brief in PDF or eBook format from the DFAT website.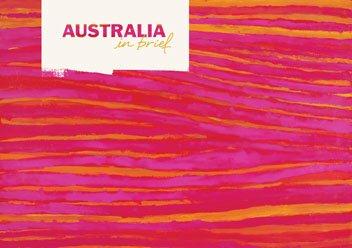 Australia's Trade
The Australia's Trade at a Glance booklet brings together information from a range of DFAT publications in the one location and includes data on Australia's trade by state and territory, top trading partners, Australia's trade with APEC and the G20 and more.
australia.gov.au
Access to Australian Government information and services.
Australian phone directories